LUCAS: Parents Rights Workshop
April 30, 2022
@
9:00 am
–
3:00 pm
April 30th PARENTAL RIGHTS IN EDUCATION WORKSHOP @ Maumee Indoor Theater 9am-3pm- Private Showing of "Whose Children Are They?"- Attorney Warner Mendenhall Ohio Stands Up legal advocacy group representing parents rights in our area – Kirsten Hill, District 2 Ohio Dept of Education Board Rep speaking on Social Emotional Learning CLICK THE EVENT LINK BELOW To reserve your seats!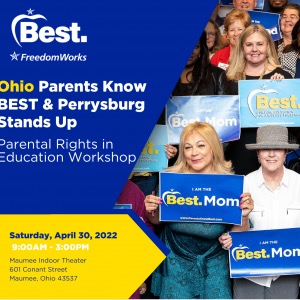 1. Insert county name (of event location) as first word of event title.
2. Complete all fields.
IMPORTANT NOTE:  Your event will be reviewed within the day by the OhioFAN website administrator.  After quick review, your event will appear on this calendar.
Question?  Send email to info@ohiofan.com.
Disclaimer:  Ohio Freedom Action Network posts liberty events as a service but is not the event organizer unless specifically noted.  Event accuracy cannot be guaranteed.