FRANKLIN: U.S. Senate Forum – Ohio
March 18, 2022
@
5:00 pm
–
8:00 pm
About this event
FreedomWorks is excited to host a US Senate candidate forum on March 18 in Columbus, OH. Doors open at 5 PM and the forum kicks-off at 6 o'clock.
With control of the U.S. Senate split 50-50, every seat is needed if Republicans are going to win back their majority. This means that freedom-loving voters have a chance to make history in the Buckeye State this year. Will they send a principled Republican to the nation's capital? Who will stick up for Ohio and put America first?
FreedomWorks is proud to host its U.S. Senate Candidate Forum in Columbus, OH. Moderated by 610 WTVN's Brandon Boxer, the forum will give voters a chance to hear from the candidates themselves about their visions for Ohio.
Control of the direction America is headed hangs in the balance. You won't want to miss-out: space is limited, so reserve your spot now!
Confirmed Candidates:
Matt Dolan
JD Vance
Mike Gibbons
Josh Mandel
Jane Timken
About FreedomWorks
FreedomWorks is a 501c4 non-profit with a community of citizen activists all over the United States of America. FreedomWorks was founded to fight for liberty and has brought together some of the best and brightest minds of the liberty movement. Since then, we've expanded our ambitions from a free-market think tank to a service center for the grassroots freedom movement across the whole country.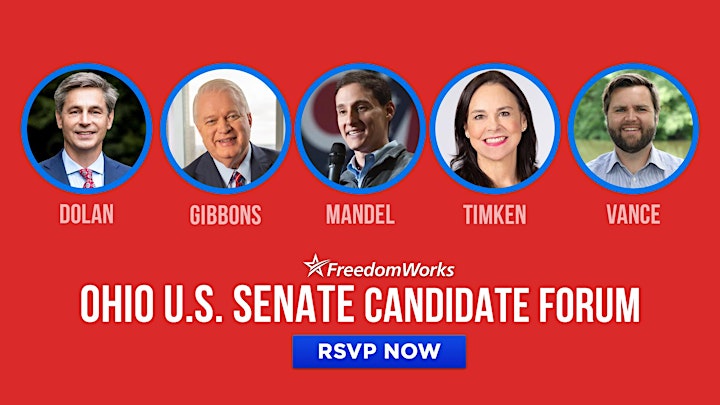 By filling out your mobile number or email, you agree to receive text messages or emails from FreedomWorks.
Free
Free but registration necessary at eventbrite link below.
1. Insert county name (of event location) as first word of event title.
2. Complete all fields.
IMPORTANT NOTE:  Your event will be reviewed within the day by the OhioFAN website administrator.  After quick review, your event will appear on this calendar.
Question?  Send email to info@ohiofan.com.
Disclaimer:  Ohio Freedom Action Network posts liberty events as a service but is not the event organizer unless specifically noted.  Event accuracy cannot be guaranteed.