LUCAS: With Liberty and Justice for All
March 18, 2022
@
6:00 pm
–
9:00 pm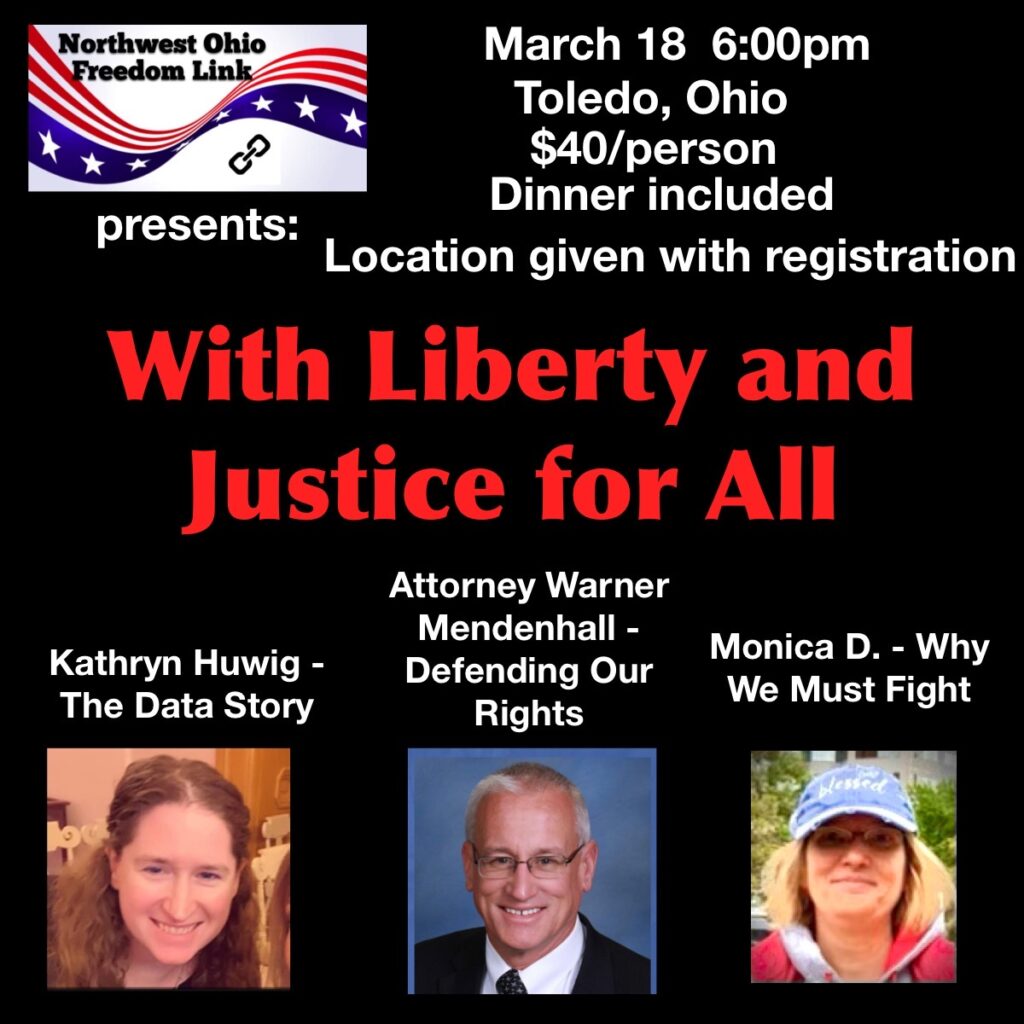 Speakers panel:
Kathryn Huwig attended Case Western Reserve University and Stanford University double majoring in geology and evolutionary biology. The data analysis she provided on the podcasts Understanding Ohio COVID-19 Data and Beyond the Data helped Ohioans understand of the data games and fuzzy math that was being used by the Ohio Department of Health.
Warner Mendenhall is an Akron area attorney. He and his team have stepped up to fight the government and institutional overreach that is running rampant by representing hospital employees, workers and college students who want to protect their right to make medical choices.
Monica is a mother, a grandmother, a sister, and a wife who woke up one day to find that her adopted country, America, was turning into something that she was all too familiar with…. communist Romania, where she grew up. She fights against tyranny and authoritarianism in honor of her two grandchildren who deserve to grow up with freedom and liberty and her loving parents who suffered most of their lives under a communist dictatorship.
This event will be held in Toledo, OH on Friday, March 18 at 6:00 PM.
General admission seating is $40* per person
~OR~
You can reserve a table that seats 8 for $320*
Dinner is included for each seat!
Registration is required and the event address will be included in your registration confirmation email.
*non-refundable
Get tickets here: https://www.eventbrite.com/e/march-nwofl-gathering-tickets-273911144607?aff=efbneb
nwohiofreedomlink@gmail.com
1. Insert county name (of event location) as first word of event title.
2. Complete all fields.
IMPORTANT NOTE:  Your event will be reviewed within the day by the OhioFAN website administrator.  After quick review, your event will appear on this calendar.
Question?  Send email to info@ohiofan.com.
Disclaimer:  Ohio Freedom Action Network posts liberty events as a service but is not the event organizer unless specifically noted.  Event accuracy cannot be guaranteed.